Here is how it works!
If you have a computer within range of you camera setup (1 mile or less) you would want to run the X7D PC Base System.

The 7D PC Base system simply allows you to completely control all of your cameras (up to 254 cameras per base) right from your computer. No cellular or data fees either! The Cell Base plugs directly into your USB port and comes complete with a standard antenna, USB cable and software to get you up and running wirelessly in no time. Doesn't need an internet connection to work but if you do have an internet connection at the computer you can set the software up to automatically send pictures and videos via email to whomever you would like.
 Don't have a computer within range of your camera location?
No Problem!
Use one of the cameras as a "Camera Base" Everything simply transmits to the camera base.

Place your camera base in an easily accessible location to collect pictures & videos from up to 254 cameras when you arrive.
Add the X7D Cell base and control your cameras from any computer with a high speed internet connection. Works with most major carriers worldwide and is simple to use! Does require a 5 gig data plan starting at $59.00/mo. (rates may vary) The big savings is the fact you can control up to 254 cameras from a single data plan. (No per picture fees, No per camera fees) just one simple monthly plan to run the entire system!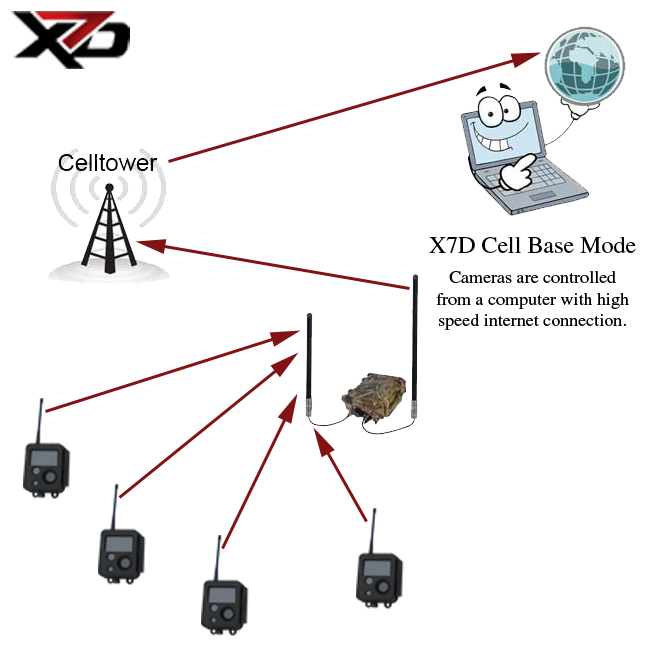 Sounds pretty cool right?
It's even cooler to see it work!
TheX7D Cell Base can be powered off 110V or 12V battery power – your choice, and it comes with everything you need to run it either way! Just install the Buckeye Cam Base software on the computer you want to run the cameras (must have high speed internet) then put your X7D cameras out deploy the cell base within range of the cameras and PRESTO, your going wireless.
No more visiting cameras to retrieve pictures while alerting the game you are after. Know the moment something triggers any of your cameras from the comfort of home.
It's great for remote security applications. That is why this same system is being used by the US Border Patrol, ICE, IBET, US Military, Researchers and the list goes on and on.
Buckeye Cam is made right here in the USA!